Discovering ancient traditions in Abruzzo - Italy
Experiences with a gastronomic tour on the Trabocchi Coast with cooking classes in 7 days
Seven days guided tour on the Trabocchi Coast, with the international chef Antonella Barbella, 
to discover the ancient crafts and the natural beauty of a place still untouched and far from mass tourism.
The family atmosphere and the cordiality of the inhabitants tied to the original traditions will involve you making you feel at home, among traditions, history, art, culture, food and wine of the highest quality.
---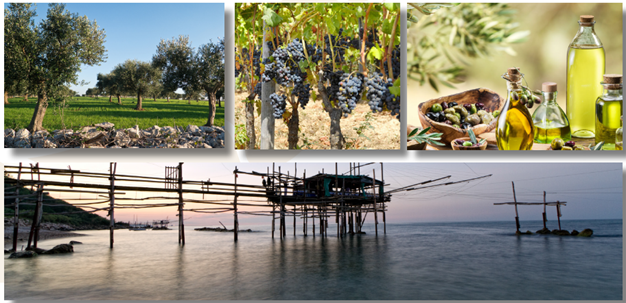 ---
What are the trabocchi
The Trabocchi, defined as a World Heritage Site by UNESCO, are wooden constructions anchored on rocks, present only on the Adriatic, formerly used as fishing machines by peasants to get fish without leaving the coast.  Recently refurbished they have been converted into charming restaurants on the water.
The territory
The Trabocchi coast, so named because it is dotted with these ancient fishing systems, is located in central Italy, 250 km from Rome, in an Italian area still untouched by mass tourism, set between the blue sea and the rich green of the coast, 30 minutes from the Maiella mountain where in winter you can ski on the snow slopes. Lush land inhabited by friendly people, always intrigued by visitors from other cultures, proud to share their traditions and their passion for the homeland.
Located in the central area of Abruzzo, with an extraordinary morphology it also welcomes soft hills, several lakes and two large mountains: Gran Sasso and Maiella from which several waterfalls are born to be admired during the melting of snow, between spring and summer. It is also known as the Green Region of Italy for its 3 national parks, where the brown Bear and the gray Fox are protected in nature reserves.
With 131 km of extremely varied coastline, among sandy beaches, pebble beaches and cliffs overlooking the sea, the Abruzzo region can be defined as a jewel of uncontaminated nature.
---
---
Take a look in the video at the view of the Promontorio Dannunziano!
---
WELCOME TO MY HOUSE!
Benvenuti a casa mia!
My mission is to promote my land of Abruzzo by supporting the local economy of small producers and family businesses, who with great passion tell of ancient traditions, handed down from father to son through their authentic products.
---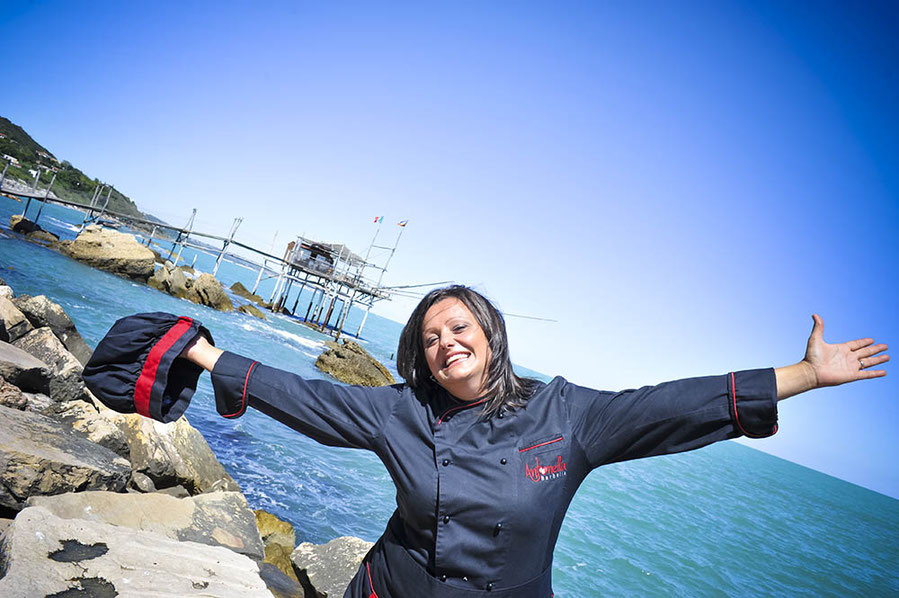 ---
Who is Antonella?
Passion, enthusiasm and an incredible positive energy, so engaging that it is contagious, Antonella will accompany you on an exciting journey made of the flavours and aromas of a land rich in traditions and history, making you feel at home.
With 20 years of experience in organizing food and wine events and fairs, catering and home cooking, it is the story-telling with show-cooking for numerous institutions and big Italian brands that promote gastronomy in the Netherlands.
She constantly organizes wine and food tours, guiding guests in her land of Abruzzo who want to discover the natural beauty of a still untouched place, far from mass tourism and rich in traditions, art, history, culture, authentic food and wine.
Antonella has published a cookbook in the Netherlands, which talks about the recipes of 3 generations of mothers, in their different styles and many recipes for the Italie Magazine in Holland, Germany and Belgium.
---
---
Discovering ancient traditions in Abruzzo - Italy
Experiences with a gastronomic tour on the Trabocchi Coast with cooking courses
in 7 days all-inclusive
What
Come and rediscover the ancient traditions of local producers who have handed down family crafts and customs for generations. Be accompanied to savour local products, including cooking classes and typical restaurants, guided tours of local producers and fantastic excursions in the area between the sea and the mountains of the beautiful Costa dei Trabocchi with the hostess, the international chef Antonella Barbella.
Where
Accogliente ospitalità a San Vito Marina in un'elegante struttura in riva al mare, con vista mozzafiato sull'Adriatico, fra scorci di verde incontaminato della natura della costa dei Trabocchi, caratterizzata da piantagioni di agrumi, uliveti, vigneti e baie di pescatori.
Who are our clients?
Lovers of Italy and Italian cuisine, ideal for family groups, friends or company teams with a passion for food, wine and Italian style. The trips are made for groups of 8 to 15 participants.
It is possible to organize the tour also for couples or larger groups, and with customization based on the customer's request.
When
From early April to late October
Flights
Airport Rome Fiumicino – 2,5 hours from Destination with Shuttle bus
Airport Rome Ciampino – 2,5 hours from Destination with Shuttle bus
Airport Pescara – 30 min from Destination with Shuttle bus
IN EVIDENCE
• Professional courses of typical Abruzzo cuisine with the international chef Antonella Barbella in exclusive locations with typical local and seasonal ingredients
• Discovery of Abruzzo: exciting guided tours among wineries, farms and local producers, markets, ancient villages, castles and churches, among history, art, culture, traditions, between sea and mountains.
• All-inclusive. Forget the wallet at home!
The day begins with the typical croissant and cappuccino, reinforced by a hearty breakfast of typical local products, followed by lunches and dinners with local wine and drinks included, guided excursions, entrance fees to museums, churches and castle, coffee breaks in typical Italian bars and tastings at local producers. Transfer to and from the airport by shuttle bus, Flight excluded (on request we can also arrange the flight).
• Residence in a splendid hotel, overlooking the sea of the Trabocchi Coast, with a magnificent terrace where to look at the beauty of the area and the blue of the sea, elegant rooms with attention to detail with sea views, a swimming pool immersed in a citrus garden 30 minutes from Pescara airport or 2.5 hours from Rome. 4 stars recently renovated:
La chiave dei Trabocchi, Contrada Portelle, Marina di San Vito CH, Italia
---
---
PROGRAM: from Saturday to Saturday
Saturday - Day 1
Reception at the airport (Rome or Pescara) and departure by shuttle bus to the hotel
Arrival at the hotel with welcome and dinner on the Trabocco
Sunday - Day 2
Trabocchi coast, San Giovanni in Venere Abbey, Lanciano with historic village and underground excavations of Roman times
Monday - Day 3
10 min from the hotel cheese farm, from milking to cheese. Cooking course with fresh cheese
Tuesday – Day 4
The castle of  Roccascalegna, between the sea and the sea the mountain, with truffle hunting
Wednesday – Day 5
At the fishermen's house, cooking course of Adriatic fish, from the catch to the table
Thursday – Day 6
Vineyards and winery , cookies cooking class with Montepulciano (in September-October also harvest in the vineyard) and tour in the mountain to the farm of pasta guitar
Friday – Day 7
Season-based program:
Spring-summer: The Rio Verde waterfalls
Autumn: Olive harvest and extra virgin olive oil production
Saturday – Day 8
Departure with the shuttle bus for the airport and return home
Sometimes due the bad weather is possible to have some changes in the program
Possibility to add more excursions according with the season (List to check a the arrival) 
---
Dates available 2019
JUNE 2019
8-15 June
15-22 June
JULY 2019
29 June-6 July
20-27 July
AUGUST 2019
27 July-6 August
10-17 August (Special edition with Ferragosto)
SEPTEMBER 2019
31 August – 7 September
7-14 September (special week with Le feste di settembre lancianese)
21-28 September
OCTOBER 2019
12-19 October (Special edition winery)
19-26 October
26 October – 2 November (Special edition with oil mill)
---
---
The fee includes:
7 days in a double room, sea view with breakfast
Lunches and dinners with wine and drinks with meals
Coffee breaks during excursions
Cooking classes con diploma
Tasting by the local producers
Guided, excursions and entrance fees to museums, castles and churches
Shuttle bus to and from the airport of Rome, excursions and beach, for the exclusive use of the group
In summer, beach umbrella and deckchairs on the beach
The fee does not include:
Personal insurance
The flight
Extra and personal tips
Everything not included in the note includes
---
---
---
---
---
Arrivederci in Abruzzo!!!