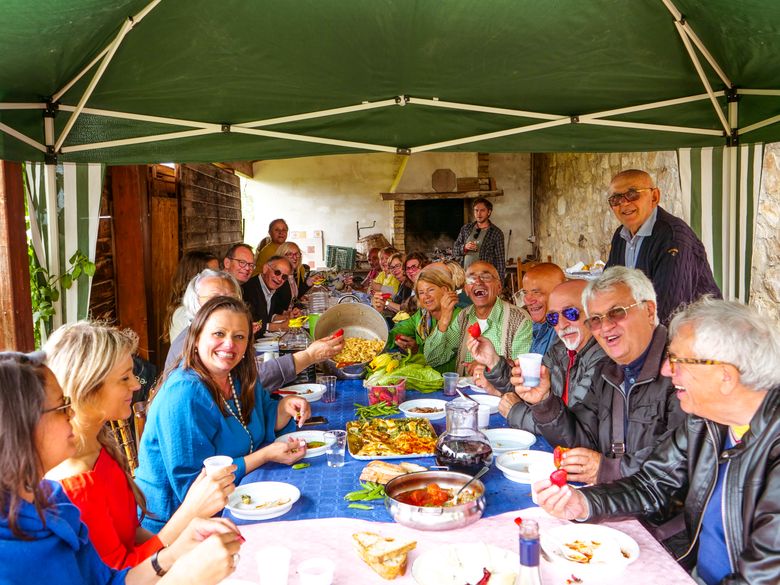 Come and experience a guided tour on the Trabocchi Coast,
with the renowned international chef Antonella Barbella.
Discover the ancient crafts, history, art, culture and cuisine of an area
still untouched by mass tourism and unspoilt by over-development.
You will immediately be made to feel at home by the hospitality of the locals with their conviviality and pride in the traditions, culture, food and the wine of great quality from
this remarkable area - Montepulciano d'Abruzzo.
Click here for the video of the D'Annunzio promontory 
 https://www.YouTube.com/watch?v=2wv4Z8OOg3Y
PROGRAMME: from Saturday to Saturday
Saturday - Day 1
Reception at the airport (Rome or Pescara) and departure by shuttle bus to the hotel
Arrival at the hotel with welcome and dinner at a typical restaurant
Sunday - Day 2
Trabocchi coast, San Giovanni in Venere Abbey, Lanciano with historic village and underground excavations of Roman sites
Monday - Day 3
Cheese farm, from milking to cheese. Cooking course with fresh cheese
Tuesday – Day 4
Between the sea and the mountai nThe castle of Roccascalegna, truffle hunting and cooking class with truffle
Wednesday – Day 5
From the bay to the fishermen's house, cooking course of Adriatic fish, from the catch. In the cowntryside to pick our veggies to cook with the fish
Thursday – Day 6
Vineyards and winery , biscuits cooking class with Montepulciano (in September-October  according of the weather harvest in the vineyard) 
Friday – Day 7
Extra virgin olive oil production and cooking class with it
Gala dinner with Diploma with Antonella Barbella's cooking school
Saturday – Day 8
Departure with the shuttle bus for the airport and return home
Sometimes, due to bad weather, some changes may have to be made to the programme.
The addition of seasonal excursions is always a possibility. (Check the list on arrival) 
---
Available dates 2020
4 -11 April 2020      Easter edition
18 - 25 April 2020
25 April - 02 May 2020   
12 -19 September 2020
17 - 24 October 2020
For groups of minimum 6 people
On request dates for min 2 people with addicitonal costs
Possibility to add extra days with excursions in Rome
---
---
All-inclusive gastronomic tour on the Trabocchi Coast 
with cooking courses
What
Come and discover the ancient traditions of local producers who have handed down family crafts and customs for generations. Be accompanied to savour local products, including cooking classes and typical restaurants, guided tours of local producers and fantastic excursions in the area between the sea and the mountains of the beautiful Costa dei Trabocchi with the hostess, the international chef Antonella Barbella.
Where
Welcoming hospitality in San Vito Marina in an elegant structure on the seashore, with a breathtaking view of the Adriatic, amid unspoiled views of the nature of the Trabocchi coast, locations with citrus plantations, olive groves, vineyards and fishing bays.
Who are our clients?
Lovers of Italy and Italian cuisine, ideal for family groups, friends or company teams with a passion for food, wine and Italian style. The trips are made for groups of 8 to 15 participants.
It is possible to organize the tour also for couples or larger groups, and with customization based on the customer's request.
When
From early April to late October. The program changes according with the saason.
Flights
Airport Rome Fiumicino – 2,5 hours from Destination with Shuttle bus
Airport Pescara – 30 min from Destination with Shuttle bus
Overview
• Professional courses of traditional Abruzzo cuisine with the international chef Antonella Barbella in exclusive locations with local and seasonal ingredients.
• Discovery of Abruzzo: exciting guided tours among wineries, farms and local producers, markets, ancient villages, castles and churches, encompassing history, art, culture, traditions, between sea and mountains.
• All-inclusive. Leave the wallet at home!
The days begin with croissants and cappuccino, reinforced by hearty breakfasts of local products, followed by lunches and dinners with local wine and drinks included, guided excursions, entrance fees to museums, churches and castles, coffee breaks in fun Italian bars and tastings at local producers. Transfer to and from the airport by shuttle bus. Flight excluded (flights can be arranged upon request).
• Residence in a splendid hotel, overlooking the sea of the Trabocchi Coast, with a magnificent terrace overlooking this beautiful area. Elegant rooms with attention to detail, sea views, a swimming pool immersed in a citrus garden, 30 minutes from Pescara airport or 2.5 hours from Rome. 4 Stars, recently renovated: La Chiave dei Trabocchi, Contrada Portelle, Marina di San Vito CH, Italia
---
What are the trabocchi
 The trabocchi, defined as a World Heritage Site by UNESCO, are wooden constructions anchored on rocks, found only on the Adriatic coast.  They were used by local fisherman as a method of catching fish without going out by boat. Today, some have been converted into charming little restaurants on the water.
The territory
 The Trabocchi coast, named after these ancient fishing systems, is located halfway down the eastern coast of Italy, 250 km across from Rome, in an area still untouched by mass tourism.
The coast itself is wonderfully varied, with idyllic sandy beaches giving way to pebbles and even cliffs.
The area inland is known as the Green Region thanks to its three national parks,
where the brown bear and grey fox are among the protected species.
Soft rolling hills lead to two mountains which are home to the source of multiple rivers and spectacular waterfalls, to be seen during the spring melts. The mountains - Gran Sasso and Maiella are hosts to skiing sports in winter and this gives the locals an opportunity to share their pride in the region with winter sports enthusiasts. The Abruzzo is a real jewel of uncontaminated nature!
---
---
WELCOME TO MY HOUSE!
Benvenuti a casa mia!
My mission is to promote my land of Abruzzo by supporting the local economy of small producers and family businesses, who with great passion tell of ancient traditions, handed down from father to son through their authentic products.
---
---
Who is Antonella?
With passion, enthusiasm and an incredible positive energy, so engaging that it is contagious, Antonella will accompany you on an exciting journey made of the flavours and aromas of a land rich in traditions and history, making you feel at home. 
With 20 years of experience in organizing food and wine events and fairs, catering and home cooking, Antonella has applied her gift for story-telling and show-cooking for numerous institutions, and big Italian brands which promote gastronomy in the Netherlands.
She regularly organizes wine and food tours, guiding guests in her land of Abruzzo who want to discover the natural beauty of a still-untouched place, far from mass tourism and rich in traditions, art, history, culture and authentic food and wine. 
Antonella has published a cookbook in the Netherlands about the recipes of 3 generations of mothers in their different styles, and many recipes for the Italie Magazine in Holland, Germany and Belgium.
---
---
---
---
---
---
---
Cost
€ 2.900 p.p.
Discount van 30% for booking before 15 Feruary 2020
You pay € 1.999 instead of € 2.900 p.p.
The fee includes:
7 nights in a double room, with breakfast, hotel 4 stars with big terrace sea view
Lunches and dinners with wine and drinks
Coffee breaks during excursions
Cooking classes with diploma
Tastings at the local producers
Guided excursions and entrance fees to museums, castles and churches
Shuttle bus to and from the airports, excursions and beach visits for the exclusive use of the group
In summer, beach umbrellas and deckchairs on the beach
The fee does not include:
Personal insurance
The flight
Extra and personal tips
For information and reservations:
Tel & WhatsApp 0031 619 73 0063
---
---
---
Click on the video ad have a look at the view from our hotel
---
Looking forward to meet you in Abruzzo!!! 
---
---